How to get Tibet Travel Permit Successfully
Edited by TibetTravel.com on 2016-01-24 15:58:06
2016 Latest Tibet Travel Permit Information (Updated September 12, 2016)
At the present time the application and issuance of Tibet Travel Permits is continuing normally. We have successfully helped more than 2,000 clients receive their Tibet Travel Permits in 2016. We offer a 100% success guarantee for all of our customers in their application for a Tibet Travel Permit. We promise to nail visa to Tibet for every of our clients with 100% guarantee.
Tibet Odyssey Tours stands ready to help all travelers who plan to visit Tibet. With our years of Tibet tour operation experience and our outstanding networking ability within the industry, we promise our customers a hassle-free Tibet Travel Permit application service. We will treat your inquiry with the respect that it deserves and respond promptly to any questions.
Feel free to join any our fixed-departure Tibet small group tours for a once-in-a-lifetime visit to this fascinating land, or have us put together a customized tour plan that fits your needs, all at the most competitive prices in the industry.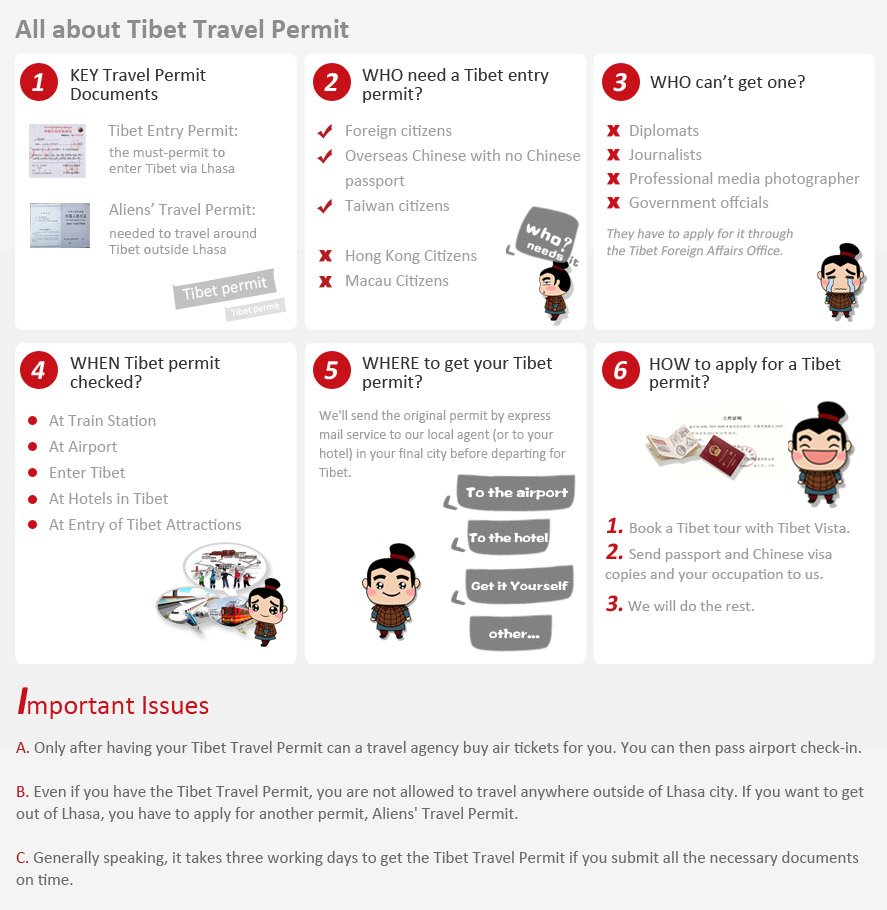 Tibet Travel Permit
Online Tibet Permit Application
A Tibet Travel Permit (or Tibet visa) is required for entrance into Tibet in addition to the usual Chinese visa. Tibet Travel Permits vary according to the places that travelers plan to visit, but the most basic one is the permit issued by the Tibet Tourism Bureau. It is required as a must-have entry pass to Tibet for every foreign traveler.
Due to Tibet's unique ethnic traditions, cultural heritage, tourist service facilities, reception capacity, ecological protection needs and traffic situation, the National Tourism Administration prescribed that foreign tourists, Taiwan citizens and overseas Chinese tourists (except for Hong Kong and Macau residents holding Chinese passports or return certificates) must obtain a Tibet Travel Permit before they will be allowed to enter Tibet. All tourists may obtain a Tibet Travel Permit through a travel agency with the exception of foreign diplomats, journalists and foreign government officials, who must apply for a Tibet Travel Permit through the Tibet Foreign Affairs Office.
Please keep in mind that foreign tourists are generally required to have four kinds of documents to travel in Tibet.
Chinese Visa
As Tibet is under the jurisdiction of the People's Republic of China, travelers will first need to obtain a China visa for the purpose of entering China. Travelers can apply for a China visa through an overseas Chinese Embassy or Consulate or in Hong Kong.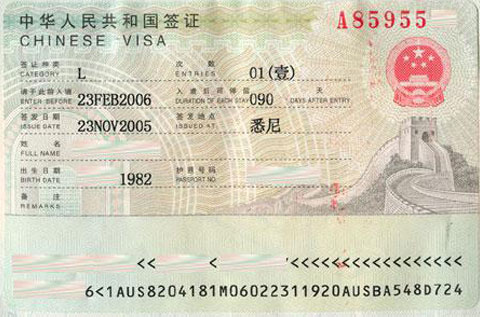 Chinese Visa
A Sample Chinese Visa
Tibet Travel Permit
The Tibet Travel Permit is issued by the Tibet Tourism Bureau (TTB). It is also sometimes known as a Tibet visa as it used for the purpose of entering Tibet.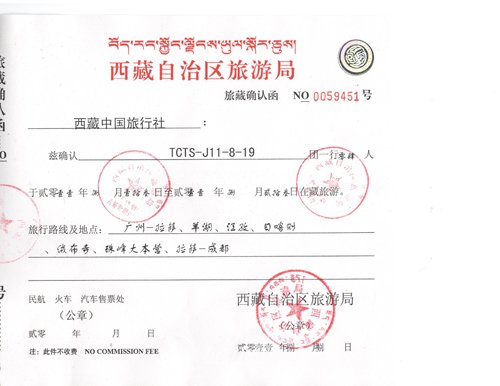 Tibet Travel Permit
A Sample of Tibet Entry Permit
Travelers must have the Tibet Travel Permit to enter into Lhasa or any other parts of the Tibetan Autonomous Region. It can be obtained through tour operators for most tourists. When you board a flight or a train to Lhasa or any other part of Tibet, you will be asked to show this permit during check-in. Furthermore, this permit is required by tour groups traveling to Tibet by highway, but this permit will typically be arranged by the travel agency that is organizing the trip.
Important Notices for the Tibet Travel Permit
1. You must first obtain a Tibet Travel Permit before a travel agency can buy airplane or train tickets for you to travel into Tibet.
2. A Tibet Travel Permit does not allow you travel anywhere outside of the city of Lhasa city. If you want to get out of Lhasa, you will need to apply for another permit – the Aliens' Travel Permit.
3. Generally speaking, it takes three working days to obtain the Tibet Travel Permit, assuming that you submit all of the necessary documents on time.
Aliens' Travel Permit
The Alien's Travel Permit is issued by the China Public Security Bureau. It is required when tourists are planning to travel to the 'unopened' areas of Tibet, such as the Mount Everest Base Camp in Shigatse or the Samye Monastery in Tsedang, for example.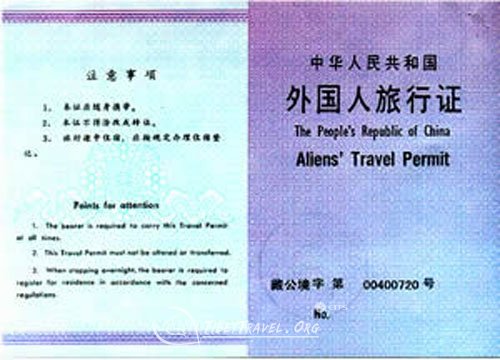 Aliens' Travel Permit
A Sample of Aliens' Travel Permit
The Aliens' Travel Permit is required to visit 'unopened' areas of Tibet. It is issued by the Chinese police unit known as the Public Security Bureau (PSB). Usually, you can apply for it after you have arrived in Lhasa. For tour groups, our guide will ask you for your passport and your Tibet Travel Permit for submission to the Foreign Affairs pision of the PSB to obtain the Aliens' Travel Permit. It normally takes several hours and the cost is 50 Chinese Yuan per person. If you travel alone, you must join a local tour to any of the 'unopened' areas, and the local travel agencies will arrange the PSB for you as well. No travel agency can provide an Aliens' Travel Permit only service.
Notice: If you want to do a Tibet overland tour from Yunnan, Sichuan, Qinghai or Xinjiang Province to Tibet, you must obtain the appropriate PSB permit before your tour starts.
Which parts of Tibet are listed as "closed areas"?
At present, you must apply for an Alien's Travel permit if you are planning to visit the following places:
Tsedang: Samye Monastery, Tombs of Tibetan Kings, Trundruk Monastery, and Yumbulakang
Shigatse: Sakya Monastery, Mt. Everest, and Rongbuk Monastery
Gyantse: Pelkor Chode Monastery & Kumbum Stupa
Ngari Region: Mt. Kailash, Lake Manasarovar, Tsaparang, etc.
Nyingchi Region: Basum-tso, Pomi, Rawok-tso, etc.
Chamdo Region: Chamdo, Riwoche, Tengchen, etc.
Military Area Entry Permit
The military area entry permit is required if tourists are planning to travel to some militarily sensitive areas in Tibet, including Mount Kailash and Rawok Lake in Chamdo.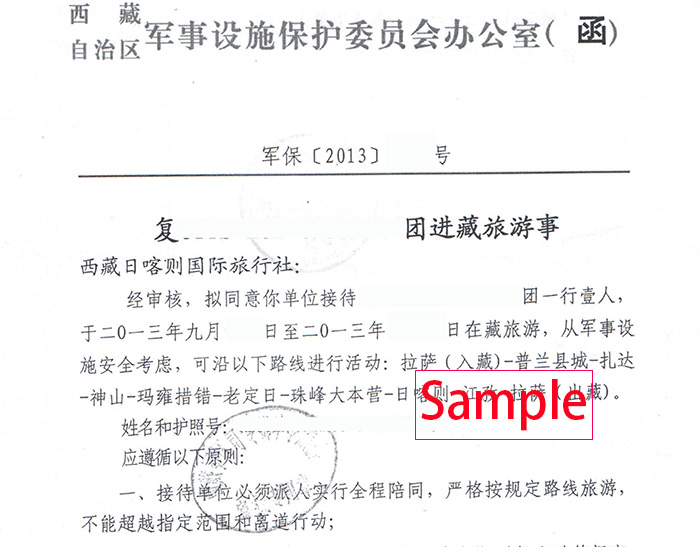 Military Area Entry Permit
A Sample of Military Area Entry Permit
Sensitive borders areas such as Mt. Kailash and eastern Tibet not only require a Military Area Entry Permit, but also a Foreign Affairs Permit. For Tholing and Tsaparang in western Tibet, you will also need a permit from the local Cultural Antiquities Department. All of these will be arranged by our travel agency one month before you enter Tibet. The Military Area Entry Permit is issued by the Military Affairs Office while the Foreign Affairs Permit is issued by the Foreign Affairs Office in Lhasa. It normally takes 10-15 working days to obtain all of the necessary permits.
Tibet Travel Permit Application Procedure
1. Email a photocopy of your passport and your Chinese Visa at least 20 days before your Tibet tour starts.
There are three main types of Chinese Visas: "L","F","Z", as well as other types for studying, traveling and working.
Please refer to Apply for Tibet Visa to understand what travel documents you will need to prepare.
Note: Any visa issued by associations such as APEC is not the same as a Chinese Visa for the Tibet Travel Permit application.
2. If you work or live in China or if you are visiting China for business purposes, you will need to offer a certificate to prove your purpose for visiting China.
Sample of Certification Letter
Confirmation Letter for Business Visit
We hereby confirm that (your full name), passport number _________ has been working at (your company name) since (date that you joined the company) in the position of (your position in the company).
Mr./Ms. (your full name) will be visiting China for (purpose of visit) from (date you will enter China) to (date you will depart China). If you have any questions regarding (your full name), please feel free to contact (contact person at your company) at (email address, telephone number, fax number for your company).
Company Name:
Company Seal:
Date:
2. Your Tibet Travel Permit will be issued within 2-5 working days after we deliver your documents to the Tibet Tourism Bureau.
The Tibet Travel Permit will be mailed to the city from which you depart to Tibet. Please let us know the address and telephone number of your hotel in that city at least 15 days before you arrive in China. If you will need to pick up the Tibet Travel Permit at our branch office in that city, we will mention it in the contract.
3. Travelers need to offer unfeigned, effective and related credentials, license or certificate through which Tibet Odyssey Tours will apply for necessary permits.
Once any counterfeit credential, license, certificate or false information from travelers is confirmed, Tibet Odyssey Tours reserves the right to cancel the corresponding trip, without any refund. Travelers will also need to compensate Tibet Odyssey Tours when any fraudulent information submitted causes any loss to our company.
IMPORTANT NOTICE: Tibet occasionally sees political tension and social unrest. When there are important political events or any indication of such political or social unrest, the government may not issue Tibet Travel Permits. Although the conflicts are defused day by day, it is still a problem out of our control. Therefore, we cannot guarantee that you will obtain a Tibet Travel Permit under those circumstances. Moreover, we cannot predict when it will happen. Please do understand and take it into consideration when planning your trip to Tibet. However, it is not necessary to worry too much about it as it rarely happens. Ignore any unofficial rumors or information that you may find on the internet or from other sources as only official announcements from the Chinese government affect the issuing of Tibet Travel Permits.
Quickly inquire via our WeChat:
asia_odyssey_travel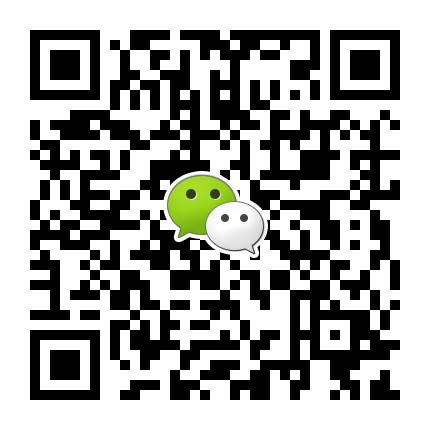 SEND US INQUIRY NOW
We have helped thousands of travelers since 2009. Tell us your ideas and get a quick response within 0.5-12 hours.




Data in submission...